Anette Mossbacher is a professional photographer who has lived in Africa and Asia and has spent a great deal of time in the remote wilderness and bush getting face to face with wildlife. Anette's nature and wildlife photographs have been published in magazines, books, and commercials and have won several awards including the International Photography Awards in 2014. In this blog post, she shares with us a few tips for taking photos in Namibia…
Photo courtesy © Anette Mossbacher | Nature & Wildlife Photographer | anettemossbacher.com 
Tell us about your most unforgettable moment while photographing in Namibia.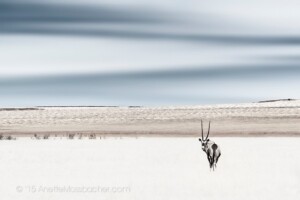 The most unforgettable moment while photographing was at Epupa Falls early in the morning. I was lucky enough to get there when the water was very high. That morning I climbed a little path in the dark with a torch, trying to find the spots I marked with rocks the day before. With all my equipment on my back, I was not sure if there would be some big cats around! Standing at several spots, taking long exposure pictures, I was taking the falls' beauty into my memory forever. I had time to look around in peace, to realize I was alone. The clarity of the pristine landscape, the thunder of the waterfalls, and in between the great Baobab trees growing slowly between the rocks. These were breathtaking moments bathed in sunrise light. 
Photo courtesy © Anette Mossbacher | Nature & Wildlife Photographer | anettemossbacher.com 
Every destination has its challenges and rewards; how does Namibia compare to other places you've photographed?
WOW is my word for Namibia. It is for sure one of my favorite countries to travel to. Traveling alone as a woman, I always felt safe in every corner of this amazing country. I experienced so many friendly people throughout the country. Driving through Namibia for thousands of kilometers the scenery changes around every corner- the diversity of its landscape is incredible.
Photo courtesy © Anette Mossbacher | Nature & Wildlife Photographer | anettemossbacher.com
The population is very thin when outside of the cities and once I drove two days without meeting another soul on the road. Pure solitude… Namibia has so much to offer from the Fish River Canyon to the highest red sand dunes of the Namib Desert, not to mention the Skeleton Coast and Etosha National Park.
The challenges of this country are the heat, the dust in certain areas and the long distances to drive between spots. But there is nothing really that would hold me back to keep returning to Namibia again and again.
Which three photos you took in Namibia are you most proud of and why?
My first long-exposure image of the Epupa falls…
I finally had some masses of water falling down the cliffs so I could play with exposure. Of course, I can do this with clouds as well, but I hardly experienced lots of clouds while there. This lets me plan my next trip in the rainy season. When I took the images of the Epupa falls in long exposure the time of the exposure was around three minutes. While waiting till the shutter closed again, some huge bugs decided to climb up my tripod legs. They were very big and I hoped that they do not get my tripod to vibrate a bit during the exposure. As you can see, the bugs were very careful climbers! 
The Deadvlei…
One of the most photographed places on earth and one of the toughest to come up with a "different" composition than all other thousand of images. It is always a challenge when getting there as to how you are going to compose your images. I do plan images weeks if not even months ahead, especially for this image. When I showed this image for the first time to two good photographer friends, the first question they asked me was: Are you sure with your crop and composition? Then I knew, yep I got this image proper. 
When I got to the spot in Etosha where I took this image a Wildebeest herd came galloping toward me. This told me something must be going on. The Springboks took off in high jumps, and it was then that I saw the first lions of a big pride cross the grassland in the direction of a waterhole. I parked my jeep to photograph the lionesses with the youngsters and then at the very end two male lions joined the pride. The lion pictured turned around in a way to tell his mate to put it into the second or third gear… It looked like that to me. He gave me a few moments in which I was able to get him with his mane blown back by the strong wind that evening.
When going on a Namibian photographic expedition, what is your equipment of choice? And what do you never leave home without?
Besides my equipment (http://www.anettemossbacher.com/whats-camera-bag/)  for taking photographs, a real compass is a must, a paper map from TracksForAfrica as well as the GPS, and for sure a warm jacket and survival/emergency blanket, nights can be very chilly in Namibia.
A photographer friend is desperate to capture the best of Namibia. What top tips would you give them? 
1. Plan what you want to photograph, from there plan your route through Namibia. Do plan to stay longer than two weeks and take your time to enjoy the beauty of this country. Namibia is very big, depending on your plans, you will likely cover many kilometers. 
2. Take one of the breathtaking flights over the Sand Dunes and Skeleton Coast.
Nevertheless, if you want to skip all planning and want to come along with me on your own custom-made tour to improve your photography skills, join me for a fantastic experience with unrivaled opportunities to photograph the vastness of Namibian nature and its awesome wildlife. Join me for an unforgettable trip through untamed Namibia. Maximum of 2 guests. For inquiries contact me via my Nature & Wildlife Photography website.
Anette in her own words…
I currently live in Switzerland and work as a nature and wildlife photographer. Traveling around the world presents endless opportunities to capture nature and wildlife images in a variety of situations. I journey alone through countries in a 4×4 Jeep, by boat, by foot, or in any other vehicle which is needed to afford me the opportunity to visit some of the most remote places in unending places.
For inquiries or more information, please visit www.anettemossbacher.com
Follow Anette on Twitter, Facebook Google Plus, Linkedin, and 500px
More Photographer Tips
This part of a series of blog post interviews with professional photographers on how to Capture Namibia. Every week we'll be posting tips, tricks, and amazing photographs from these impressive photographers.