Namibia's premier drop zone is located just outside the coastal town of Swakopmund. Skydiving takes place over the oldest desert in the world, and the blue waters of the Atlantic Ocean provide a spectacular background.
The scenery viewed while floating peacefully under an inflated parachute is simply breath-taking.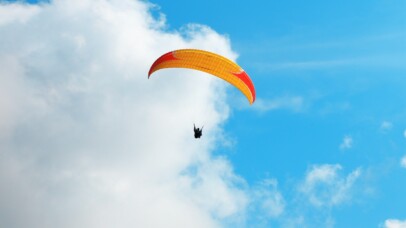 Skydiving has been taking place in Swakopmund since 1980 and carries a long tradition of high-quality skydiving, training and fun that has always been associated with the coastal town.
There are two skydiving clubs in Swakopmund that offer a professional training service. If you are already a skydiver, you can arrange a scheduled jump, and if you are a novice, there are two options available.
First, you can complete a one-day training course that will qualify you for a static line jump on the same day. Jumping with a static line means that you are tied to the aeroplane with a special cord that automatically opens your parachute when you jump. Or you can do a much shorter course and complete a tandem freefall jump.
A tandem jump means that you are physically strapped to a qualified instructor. You jump out of the plane together, freefall from 10000 ft for approximately 35 seconds or so, and the instructor does all the hard stuff, like making sure your parachute opens. You free fall at 200 km/h – get to experience the exhilarating feeling of human flight.
Once your instructor opens the parachute, you will glide suspended for about 7 minutes before safely landing on the ground below. Tandem skydivers can jump from 12000 ft or 15000 ft, which allows you to experience freefalling for even longer.
Skydivers also have the option of capturing their experience on camera or video. This gives you the chance to re-live your adrenalin rush once you are back home.