Diving in Namibia is varied and challenging, requiring special technical skills. In addition, the coast is daunting, as sea temperatures vary from 9-C to 17-C, and visibility is often as little as half a meter, at best no more than three meters. Many lakes and sinkholes provide perfect conditions year-round yet still hold the imagination of divers at all skill levels.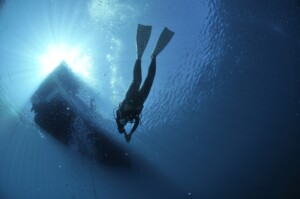 Lake Otjikoto and Lake Guineas, located between Tsumeb and Etosha, are both water-filled sinkholes. Lake Otjikoto has a known water depth of about 100 meters. Otjikoto is a National Heritage Site and has important historical importance due to the presence of artefacts from World War 1.
These military artefacts were dumped into this lake at the end of the war. Diving is controlled through a permit system. Lake Guineas has a depth of about 135 meters.
Interestingly the water temperature remains at a constant temperature of 25 degrees regardless of the time of year and depth. Guineas are situated on private land, and diving is controlled through a concession system.