Hiking gives one an opportunity of experiencing the Namibian landscape up close and personal. Exploring parts of Namibia on foot gives you an ideal chance to fully appreciate the diverse fauna and flora and spectacular landscape and scenery which ordinarily would not be seen.
Because of the high summer temperatures, rugged terrain and lack of water, hiking in Namibia requires careful planning. That said, a wide variety of walks, overnight hiking trails and guided wilderness trails are available for those looking to see the sights on foot. Public routes are often subject to various regulations listed with the description of the trails in the dropdown above.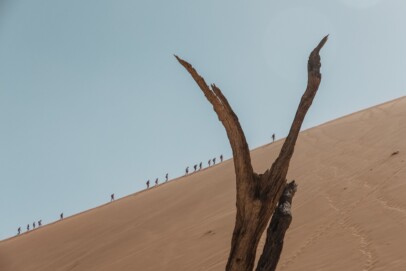 A fee is due for most trails in national parks. Hiking trails, as well as accommodation at the rest camps, should be booked well in advance at:
Namibia Wildlife Resorts Ltd.
Central Reservation Office Private Bag 13267,
Windhoek, Namibia
Tel. +264 (0)61 – 236975-8
Fax. +264 (0)61 – 224900
Email: reservations@nwr.com.na
The Namib Naukluft National Park in the south of Namibia is a popular area for hiking. There are two short day hikes, the Waterkloof and Olive trails (17 km's and 10 km's respectively), which can be booked at the Naukluft reception. Hikers seeking longer hikes can choose the Naukluft Hiking Trail, which in total is 120 km's. This hiking trail is also available as a shorter four-day trail which consists of the first half of the Naukluft Hiking Trail. The first four days of this hiking trail are considered moderate, whilst the last four days are more difficult. This hiking trail must be booked in advance.
The Fish River Canyon is another popular hiking trail in Namibia. The Fish River Canyon is the second largest canyon in the world and is ranked as one of the best hiking trails in Southern Africa. Hiking is permitted only from May to September. The hike is approximately 85 km's long and takes 4 / 5 days to complete. This hike must be booked in advance.
Wild Cherry Adventures offer various walking safaris known as Camino's. These hiking adventures take place in Damaraland and the Skeleton Coast. Your camp is set up every night for you and all your luggage is transported so all you need to do is walk and enjoy the incredible scenery and carry your day pack. This is slackpacking at its best.
There are also privately owned lodges in Namibia that offer overnight hiking trails. The Ondili Accommodation group offer guided trekking tours. They offer the 'Trans Kalahari Walk', which takes place in the Kalahari. The 'Absolute Erongo' takes you through the Erongo Mountains and the 'Namib Mountain Trail' in the Sossusvlei area.
Tok-Tokkie Trails are best known for their overnight hiking trails in the NamibRand Nature Reserve. Discover the breath-taking beauty of the desert and sleep under the stars.