Horseback riding is a popular activity throughout Namibia. From day rides to overnight horse rides, there are options available for all levels of riding. There are several adventure options for accomplished riders, including the Namib Desert Ride of about 400 km starting in the Khomas Hochland and leading through the Kuiseb Canyon, Tinkas, Tumas and Welwitschia Plains, Moon Valley, the seasonal Swakop River and coastal dunes to the Atlantic Ocean.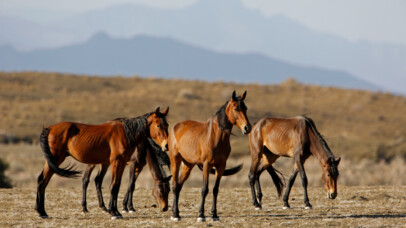 The Desert Horse Ride is a more relaxed ride, guided by Dr Telan Greyling, a botanist and world authority on the wild horses of Namibia. The 4-day circular ride traverses Sperrgebiet Rand Park, a private reserve adjoining the Sperrgebiet National Park, and the habitat of the wild horses.
On the Damara Elephant Ride, which takes six and a half days through vast open spaces on horseback, riders can expect to see elephants, giraffes and rhinos in a desert habitat, ancient craters and remnants from prehistoric times, not to mention the forbidding Skeleton Coast. These trails are all offered by the Namibia Horse Safari Company.
The Desert Homestead, 35 kilometres from Sossusvlei, offers accommodation in rock chalets with views across the Nubib Mountains. Under the trade name Desert Homestead & Horse Trails, the enterprise offers horse trails into the surrounding plains and watercourses, including breakfast rides, sunset rides, a 4×4 Sossusvlei excursion, an introductory ride, sleeping in the desert, and an optional sundowner ride. Packages that include the Skeleton Coast, Swakopmund and Grootberg are also available.
Grootberg Lodge also offers additional morning and afternoon rides. The horses at Grootberg hail from previously disadvantaged backgrounds and are tough as nails and unfazed by the sudden appearance of elephants. Most of them are Arab barbs bred in the area and bought from the donkey carts.
River Crossing, 3 km outside of Windhoek en route to the international airport, offers morning and afternoon rides and full-day rides, including lunch at the foot of a cliff. The pace is varied and suited to the weakest rider in the group.
Equitrails are also located just outside of Windhoek and cater for beginner, intermediate and experienced riders. Riding options include picnic day rides, 3-hour sundowner rides, champagne rides and overnight lodge-based excursions.
Horse trails at BuellsPort are geared to experienced riders and beginners and include tailor-made overnight trails into the Naukluft with participants sleeping under the stars.
Okakambe Trails offers tailor-made overnight trails into desert terrains varying from dunes and rocky plains to mountains and dry riverbeds from just outside of Swakopmund. The daily distance covered is approximately 30 to 40 km, depending on the riders' experience and the weather conditions.