Sand boarding is another popular activity and is on offer in Swakopmund and Walvis Bay. This activity takes place in the surrounding dunes of the Namib Desert. Also known as dune boarding it appeals to wide audience whether you are a snowboarder, surfer and even the inexperienced boarder. If you are travelling with your family then this is a popular activity – it's totally safe and kids will have a lot of fun!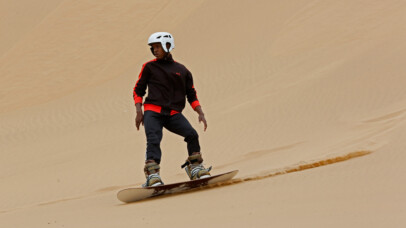 There are two types of sand boarding available: stand up boarding and lie down boarding. Professional instructors are on the dunes at all times. All safety gear and equipment is provided. You will receive instructions from the guides on what you need to do.
The Namib Desert (the oldest desert in the world) offers a variety of different shaped dunes. It is also known to have some of the biggest dunes in the world. Some of these dunes enable the boarder to go faster or slower depending what you are comfortable with. You will be taken on training rides first which will give you the chance of getting the basics right. Interestingly enough these various dunes have been given names – the training dunes are known as Little Nellie and Brigit Run. Once you are feeling more confident you will move onto the next sand dunes where you are able to go a little bit faster. The fastest dune is called Dizzy and experienced boarders can reach speeds of up to 80 km/h.
All you need to bring with you are closed shoes if you intend to lie down sandboard (your shoes are used as brakes). If you are going to be doing stand up boarding then a pair of socks is required. Sunglasses, sunscreen and a camera to capture your sandboarding. Pack a jacket or windbreaker in case and long sleeves and long pants are not necessary for safety reasons.