Namibia is an ideal destination for self-drive travellers. If you plan on doing a self-drive safari, then we recommend hiring a 4×4. Your car rental company will explain how to use your 4×4 vehicle and when to engage in 4×4 low gear (4LO) and 4×4 high gear (4HI). We do not recommend that you deviate from the roads and attempt to tackle any 4x4ing on your own. Should you want to experience serious off-road 4x4ing, we strongly suggest that you participate in a guided 4×4 tour.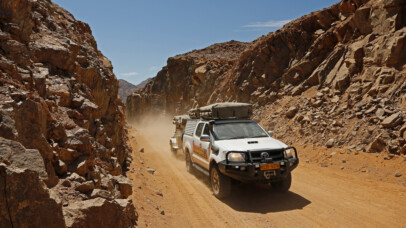 Numerous safari companies in Namibia offer 4×4 tours throughout the country. These are often guided tours whereby your guide takes the lead, and you follow in your 4×4 vehicle. Although Namibia is easily accessible, some regions lend themselves to some serious "off-roading", and drivers need to know their stuff. This is where having a guided tour is so important. You will be guided and shown how to use your 4×4 properly to tackle the more challenging areas. Many of these 4×4 tour operators will give you training in off-road driving before you depart for your tour, so you will have a good idea of how to approach challenging off-road conditions. Some of the most exciting and challenging 4x4ing takes place in the sand and dunes of the Namib Desert. Coastway Tours offers guided 4×4 self-drive tours from Lüderitz to Walvis Bay, exploring the barren sandy coast.
Namibia has a fragile and sensitive environment. 4×4 tracks can last for years and very easily pollute the landscape. Therefore, all regulations must be adhered to with regards to driving off-road. Slow driving over rocky tracks, sandy stretches and plenty of sunshine are conditions that should be expected. The same goes for ending the day with a beautiful campfire and lively discussions.