Wellness has become an increasingly popular option combined with a safari to Namibia. Many lodges have developed spas, and guests have the option of many different treatments to help escape the stresses of modern life. Guests can select from a range of offerings to rejuvenate body, mind and soul: massage and mud therapy, exfoliating treatments and much more. The presence of mother nature is also a contributing factor to one's wellbeing, and Namibia has an abundance of this.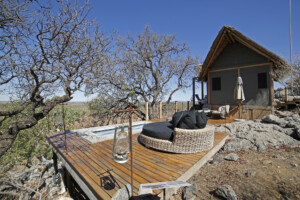 GocheGanas, situated just outside Windhoek, offers a unique combination of wildlife, nature & wellness experiences. Guests can choose to stay here or take a day trip to this beautiful lodge and experience their Wellness Village, which consists of 11 specialist treatment rooms featuring state of the art equipment. Some of the other features at GocheGanas include a Granite Bath (cave sauna), Kneipp showers, gym and yoga facilities, and a fruit & juice bar.
Huab Lodge and BushSpa in the north-western region of Namibia have a natural thermal spring. The water bubbles up out of the ground at about 60 degrees centigrade, maintained in the wallowing pool between 37 and 40 degrees. The lodge also has a wellness therapist.
If you are looking for a luxury experience, then Little Kulala Camp near Sossusvlei offers luxurious accommodation as well as spa and massage treatments.
If you're planning on a wellness holiday, then Namibia should be your first option – this is because Namibia lends itself to relaxation and wellbeing. The silence of the desert, the stars at night and the vastness that stretches to the horizon provide a ready-made antidote to the stress of life. Visit Namibia and feed your soul.