Ballooning is like a magic carpet ride. While you fly, you do not feel any turbulence as you travel at the current wind speed. The tranquillity of your flight will provide you with plenty of unique photographic opportunities and unsurpassed views. The pilot controls his altitude perfectly but has no steering wheel. He will maintain his direction, choosing the wind channels that are available at various heights. The ground crew has permanent radio contact with the pilot.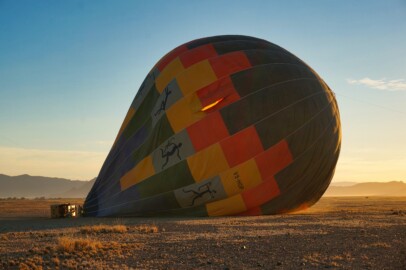 At Sossusvlei, a spectacular launching and take off as the sun rises over the world's oldest desert over windswept dunes and the splendour of the desert play-out in front of you as you soar with the winds for an hour over the ocean of sand and mountains, an endless vista of shadow and light.
Hot air ballooning is currently available at Sossusvlei and Swakopmund. Ballooning at Sossusvlei has been available for many years and has a 100% safety record. Climb aboard as the sun rises and witness the most spectacular shadows dancing across the giant dunes of the Namib Desert. Watch the desert coming to life as the sun travels towards its zenith. The area you fly over is part of the Namib Sand Sea World Heritage Site, and you will get to appreciate the pristine natural splendour of this sea of magnificent dunes. Honeymooners to Namibia will find this activity particularly romantic. Ballooning at Sossusvlei takes place every day at sunrise and is only closed for a short time over Christmas until early January. Your flight lasts approximately one hour – be sure to take in and absorb every moment. Once you have landed, a champagne breakfast will be waiting for you.
Ballooning in Swakopmund allows one to glide over the Namib desert's dunes whilst having the Atlantic Ocean as your background. Experience the Skeleton Coast from high above as you gently float across the horizon. The mist from the ocean creates mystical scenery as it slowly envelopes the orange dunes of the Namib Desert.