There are many different options for exploring and travelling through Namibia. First, have a clear idea of your budget and what you want to see and do. Below are some of the more popular travelling options.
Self-drive Tour
The most popular way of travelling in Namibia is on a self-drive tour. You hire your 4×4 and drive yourself. Namibia can easily be explored in this way. Safe driving conditions, well-maintained gravel roads, good cellphone coverage, and good infrastructure make Namibia one of the few African countries where a self-drive tour is viable.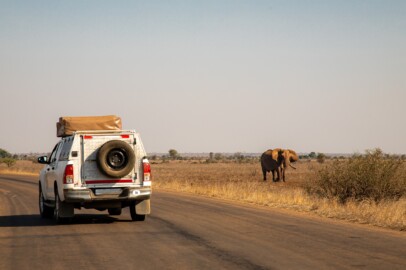 In addition, Namibian people are considered among the most helpful and friendly people in the world. If you feel more comfortable travelling with someone, then a guided self-drive safari is a good option. You still drive your vehicle, but you are guided by an experienced tour guide who generally goes ahead of you. You can choose from a self-drive camping safari whereby your 4×4 rented car comes fully equipped with roof-top tents, a fridge and everything else you would require. 4×4's can also be hired without camping equipment if you plan on staying at lodges.
Peak season in Namibia is from July to November. If you plan to travel to Namibia during this time, it is strongly recommended that you have a pre-booked itinerary. On the other hand, if you are more of an adventurous traveller and want to experience Namibia at your own pace and not be tied down by an itinerary, it is advisable to travel out of peak season.
Scheduled Safaris & Tours
Small group travel is also a popular way of travelling through Namibia. You have a guide who does the driving and organizes most aspects of your safari in Namibia. It can also be more cost-effective to travel with a group. All planning and research and the logistics have been taken care of by the safari company – you don't have to worry about these aspects. For solo travellers, this is a popular way of experiencing Namibia. If you plan on travelling at short notice, then this is a suitable option.
Special-Interest Tours
Numerous safari companies cater for travellers with special interests. Special interest tours include birding safaris, cycling safaris, photographic and cultural tours, amongst other special interests. These safari companies know what requirements special-interest travellers have, and your tour will be very much focused on your specific interests.
Fly-In Safaris
A fly-in safari is ideal for those who do not want to spend long periods in a car or have a limited amount of travel time. Fly-in Safaris generally tend to be exclusive and more expensive than the traditional ways of touring Namibia. High-end lodges are usually used for accommodation. It is also one of the best ways of experiencing and seeing the various Namibian landscapes. One gets a different perspective of the country and its vastness and natural beauty.