Despite the scorching summer heat (though it's only the start of the Spring season) and the arid conditions that currently characterize this vast national park of over 23,000 square km, the animals came out to play. And this made me incredibly happy!
After paying our dues (N$30 for Namibians, N$60 for SADC residents, and N$80 for foreign tourists, plus extra vehicle fees) at Okaukuejo – the park's southern entry point and one of five NWR park resorts – we went in search of the big stunners – lions, rhinos, elephants, etc – and boy, were we lucky!
Etosha is home to over 114 mammal species, 340 bird species and home to four of the Big Five. Ah, and not to forget the 'usual suspects' – the thousands of antelope that roam the park.
Within an hour of leaving Okaukuejo, we bumped into a large herd of elephants on their way to the Olifantsbad waterhole; and our trusted tour guide, Uwe, assured us that if we went ahead to wait for them, we'd have a great show and the best view at the waterhole. So that's what we did. And what a site it was to behold! Not only did the elephants meander majestically to the waterhole to drink and be merry; but a black rhino – an endangered animal, as you know – also made a brief appearance…taking a few minutes to sip from the man-made water point in this seemingly drought-stricken national park.
Etosha delivers amazement…yet again!
By: Nangula Shejavali
The past two days in Etosha have been glorious!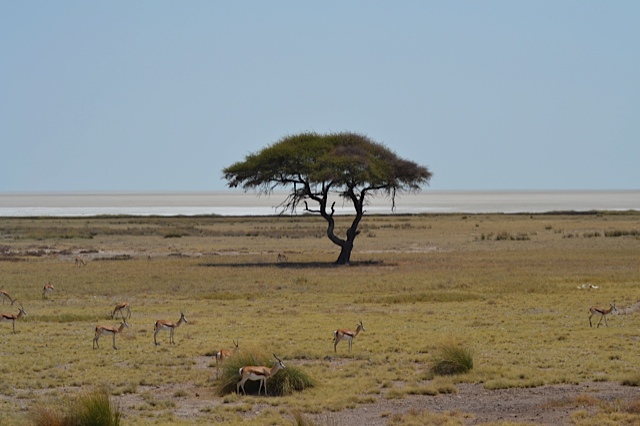 One of the many famous Etosha waterholes
With elephants and rhino taking their time to quench their thirst before us, I took a moment to think about how important the fight against the poaching of these precious animals is, and how we should all play a part to preserving their lives. In 2014 alone, 79 elephants and 22 rhinos had been confirmed slaughtered. When you come face-to-face with these big, beautiful beasts, and hear them breathe from a distance, twigs and trees breaking and shifting beneath and around them – becoming part of the fight against poaching makes all the sense. See how you can play a role here: https://www.savetherhino.org/
In addition to seeing the elephants, and running into rhinos a couple more times, another big highlight of the two days was encountering the kings of the jungle (Etosha is not a jungle, but the lions are still king), at various waterholes in the park. When you come across a waterhole in the scorching heat that is ever-present in the currently dry Etosha, and none of the numerous game present are drinking water, chances are, there are lions hanging out at that water point. I've seen this happen on past visits to this amazing Park, and yesterday afternoon was no exception at the Okondeka water point. Springbok, oryx, kudu, impala, and zebra were all there in large numbers. But no one was drinking! (and in this heat, I know someone had to be thirsty). Uwe quickly spotted the reason… Even though the waterhole was at quite a distance, a handy set of binoculars allowed us the full pleasure of oooh-ing and aaaah-ing at five big sleepy cats.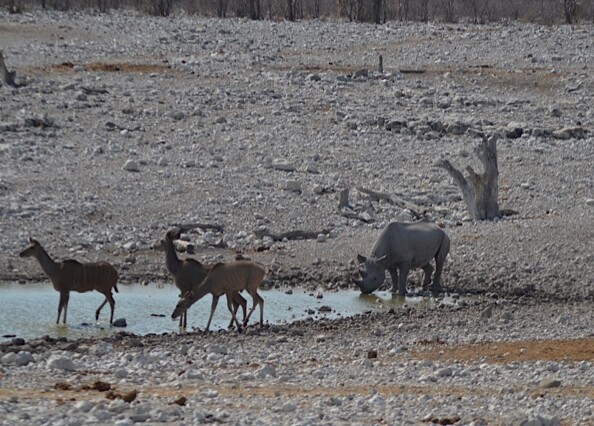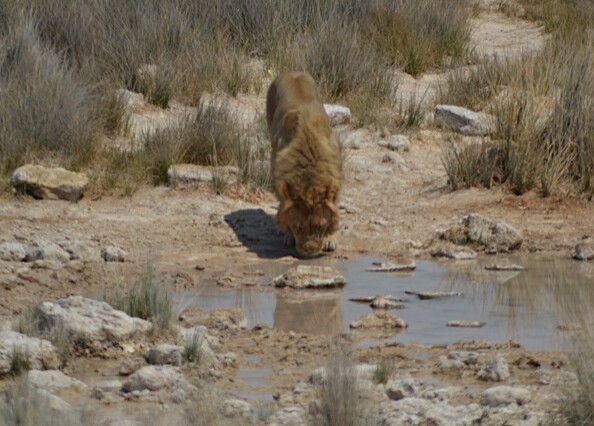 The lion at the waterhole
Little did we know that the next day, we'd see more of them from closer up. And although we didn't get to see the lions launch full-fledged attack to make a meal of the game present, the suspense was certainly in the air as three lionesses readied themselves to pounce on a nearby oryx. The oryx got the better of the day though, making a run for it towards the pan, before the lions could even say 'lunch time'.
Etosha pan – taking up about 23% of Etosha National Park – is 4,730 km2, and is dry for most of the year, except when flooded from the rivers in the north. This salt pan, glowing white in colour, can be seen all the way from space, and when in the park, creates a shimmering mirage that is best captured by your own eyes. There were many more wonders to see, and we indulged in the sights on offer, particularly at the water points that often appeared like small oases in the white sand and stone of Etosha. Indeed, Etosha is one of those places you want to have on your bucket list.
It's difficult to sum up the pleasures of a trip into Etosha in words (the accompanying pictures might be a little help). A good friend of mine, who visited Etosha once, calls it 'Eden'. And although it's a little too dry for what I imagine Eden might've looked like, Etosha certainly is a little piece of paradise, where amazement is never in short supply. Trust me, as an avid local traveller I've been here many times before, and I've never left disappointed.
As we exited the park at the Eastern Gate (through Namutoni and out the von Lindequest gate) towards Mokuti Lodge – our home for the night, in wonder at how our trip had ended with an elephant showing off in the water at Klein Namutoni on the south eastern part of the park, a fellow tourist remarked "this is your home!" I wasn't sure if it was a question (it sounded like one), or a statement (filled with jealousy). I'm leaning towards the latter! But either way, with Etosha as part of the package, with a great sense of pure Namibian pride, it was easy to respond: 'Indeed, this is my home!'