I am so excited to share with you my Eastern Namibia Adventure. Arriving late in the afternoon after a flight from Windhoek, a stopover at Katima Mulilo and a two-hour road trip from Rundu, River Dance Lodge is the best place to unwind after a hectic day.
The River Dance Lodge
Located about 30 kilometres from Divundu, in the Kavango East region, the lodge offers a scenic view of the Kavango River. With a taste of calmness, peace and tranquillity, the lodge is home to old, big and shady trees – a bird's paradise!
The river dance has spacious cabins, which are made out of wood and glass with a stunning view over the river. It is decorated in style – to provide the best relaxing atmosphere, camping facilities are also provided.
As part of the activities, the lodge offers bird watching and fishing opportunities; a boat cruise; island nature walks; a Mokoro boating experience; and a cultural visit to the Hambukushu tribe.
Sunrise in the Kavango river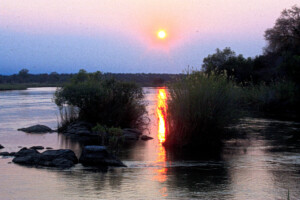 To get the best experience of the Kavango; a morning boat cruise is a must-do for bird enthusiasts at the River Dance Lodge on the Kavango River. After a nutritious breakfast just after sunrise, my guide Victor from Tutwa Tourism and me set off to enjoy what the river has to offer.
Captain of the boat Joseph promised us the only two passengers "a breath-taking experience" which is a three-hour cruise of high bird diversity.
The area is home to about 32 bird species, we had an opportunity for a glimpse of the famous 'Jesus Bird' -which is known for 'walking on the water' (African Jacana), African Hawk-Eagle, Egyptian Goose, Black-crowned, Night Heron, Cattle Egret, African Darter, Coppery tailed Coucal, Grey Lourie (go-away), Black Crake, Lesser Striped Swallow, Pied Kingfisher, Little Bee-eater, as well as various dove species.
Not only is the river home to a diversity of birds; but mammals, fish, and wildlife species are also found in the river and on its banks. A hippo made his appearance on our way back, but was too shy to show off, and disappeared under the water again. An elephant herd was seen in the distance on the Angolan side of the river, while a crocodile also sunbath on some rocks.
The Goliath Heron
The Hippos as seen in the Kavango river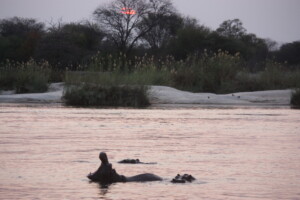 The Kavango River has its source in the highlands of central Angola.
It is the fourth-longest river system in southern Africa, running south-eastward for 1,600 kilometres.
It begins in Angola, where it is known as the Cubango River. Further south it forms part of the border between Angola and Namibia, and then flows into Botswana, draining into the Moremi Game Reserve.