News Cafe, the iconic, pioneering South African franchise, is set to open a new store in the beautiful seaside town of Swakopmund, Namibia. The leader in the social lifestyle category, which recently unveiled its new direction in décor, is ready to bring its unique vibe to the urban sophisticates of Swakopmund.
The new News Cafe Swakopmund, which perfectly encompasses the trendy, chic positioning of the brand, opens its doors on 7 September with South Africa's DJ Nibblez and a live broadcast on Windhoek's Kosmos Radio. The urban, sleek décor of the new restaurant echoes the aesthetic of its clientele.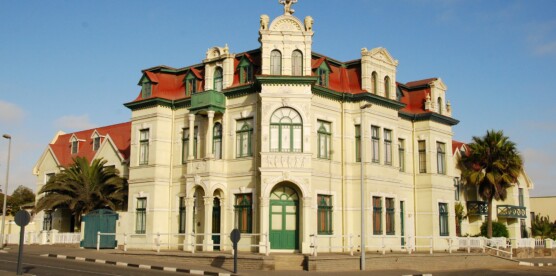 Timeless and elegant, the design focus plays on the restaurant's appeal as a venue for every occasion. The bar, the restaurant's centerpiece, features a chipped concrete mural, copper light finishes, and seamlessly sculpted soft, wooden textures.
News Cafe's premium offering, a combination of a coffee bar, cocktail bar, restaurant, and entertainment venue, has remained the market leader for two decades. The new store follows in the footsteps of this award-winning and innovative pioneer in the food and beverage industry. Remarkably, Swakopmund celebrates its 125th anniversary this year and the brand-new News Cafe Swakopmund will play an integral part in celebrating the founding of the city. The stunning seaside resort city, which sits at the edge of the Namib Desert, is a popular playground for locals and tourists alike. 'We're introducing an unforgettable vibe! We provide a great service with premium food and a rather extensive menu,' says Hugo Ferreira. Hugo Ferreira was inspired to launch News Cafe Swakopmund after experiencing the eclectic energy and popularity of the brand in South Africa and across the continent. The new restaurant, which will cater to residents and travelers alike, provides a unique vibe for everything from after-work sundowners, to cocktails with friends, and delicious shareable platters with friends and family.
For more information on News Cafe, visit newscafe.co.za or follow NewsCafeVibez on Twitter, Facebook, and Instagram.
For any PR-related queries please contact:
chiara@sinamon.co.za