Article by Desie Heita
Windhoek – For many European airline and tourism operators Namibia is this rare gem that has either been always overlooked or not appreciated enough. And for a country whose stability and tourist attractions are world-class, its world standing as one of the best tourist destinations is elevated by the fact that other countries that had traditionally competed with Namibia are marred by threats of terrorism, and that the journey there is expensive or passes through so many airports.
It is for these reasons Lufthansa's low-cost carrier Eurowings also turned its attention to Namibia. The airline looks at attracting "price-sensitive customers," Dr Andre Schulz, general manager of Lufthansa Group, Southern Africa, tells New Era in an exclusive interview.
This also means Namibian travellers wishing to visit friends in Europe can grab one carry-on luggage, hop on the airline, where they simply pay for their seat, and receive complimentary drinking water for the duration of the flight. For those with additional funds to spend, they can add one hot and one cold meal and a soft drink of their choice.
The airline sees this model as ideal for passengers who wish to travel but cannot afford the huge costs of travelling associated with traditional airlines. And for a continent, or region, where economists have forecasted an increase in the middle class, with new young people with money to spend on travelling, Eurowings is betting on good passenger traffic in the years to come.
"We see very positive dynamics, we see so many opportunities in [passenger traffic to southern Africa] mainly driven by Europe who come to southern Africa, which is more [security] secure than other markets," Schulz says.
"And there is good value for money – you have a beautiful country," says Schulz, describing Namibia as a secret gem in this part of southern Africa.
While Namibia has been known for its traditional tourism attractions of national parks, visitors to Namibia have also come to realize that there is much more the country has to offer, with other parts of the country now being added to the list of must-visit.
"There is a special charm to Namibia," says Schulz.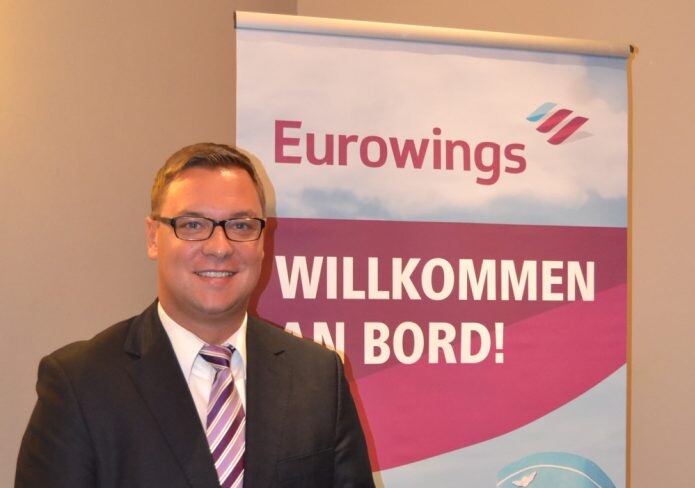 Eurowings made its maiden flight to Windhoek from Cologne/Bonn's Konrad-Adenauer airport last week Thursday. For now, the airline will operate two scheduled flights between Cologne/Bonn and Windhoek, and it plans to add another direct flight between Windhoek and Munich in May 2018.
Schulz says the difference in routes operated by Eurowings makes it a complementary airline to Air Namibia, which offers routes to Frankfurt.
Eurowings gives the customer the choice between Best, Smart and Basic fares. For customers who merely wish to book a flight, the Basic fare includes one piece of hand luggage as well as complimentary water. Should one spontaneously decide they would like a more comfortable onboard experience, extras such as products from the Wings bistro, or a seat reservation, for example, can be booked as an additional purchase.
For the customer who wants more, the Best fare includes a premium seat in the exclusive front area of the cabin. Two items of hand luggage and a 23-kilogram baggage allowance are included in the price. In addition to this, anything from the onboard Wings bistro is inclusive, and it is also possible to collect travel miles. Customers who book Best are subject to priority check-in and priority boarding and can amend or cancel their tickets free of charge.
A flight booked with the Smart fare includes a seat reservation and permits the customer one item of hand luggage and checked luggage up to 23 kilograms, as well as one hot and one cold meal with a soft drink or water. Travel miles can be collected. Other extras, for instance, meals from the on-board Wings bistro, can be booked as an additional purchase.
The airline makes use of the Airbus A330, which takes 306 passengers, with 17 passengers in Best, and the rest in Smart and Basic seating.
"Eurowings" long-haul flights are more than 90 percent booked. As a result, the low-cost long-haul offering is a success story that the airline will continue to expand sustainably in the future," said the airline.